Uncategorized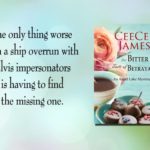 When Elise Pepper decides to take a long overdue vacation, she discovers that her Caribbean cruise isn't going to be quite the relaxing trip she'd hoped for.
Instead of enjoying a quiet getaway, she finds herself in the middle of a theme party. Who knew there were so many Elvises and Marilyn Monroes in the world?
But when an Elvis goes missing and it turns out he was a wealthy philanthropist, Elise is dragged into the mystery as the last person to see him. As she tries to convince everybody of what she saw, her frustration turns to fear when she realizes that she's trapped on board with a killer who will stop at nothing to silence her.
Elise is caught up in a race against time to find out who did it—before she becomes the next victim.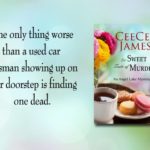 The only thing worse than an used car salesman showing up on your doorstep is finding one dead.
After a scandalous divorce, Elise returns from the big city to her southern home town only to trip over the body of the town playboy. He leaves behind a heap of trouble that includes missing money, missing pets, and mourning lovers, and the suspects just keep piling up.
Caught in her own drama, Elise is quick to wash her hands of it, until her best friend, Lavina, winds up as the number one suspect.
Can Elise clear her friend's name without ending up as the next one dead? Or are her friendship blinders keeping her from seeing the truth?